March is National Nutrition Month. Nutrition is very important in foster care.
While some kids come into foster care in bodies that are clearly aching for food, others may appear well-nourished but are similarly suffering from nutrient deficiencies.
Sometimes foster children are "stunted" – a condition in which insufficient nutrition, often combined with chronic infection and/or stress, impacts their length more than their weight. In these cases, kids will be small but might look chubby because their low weight is distributed across an even shorter body frame.
In other cases, a lack of vitamins and minerals may not impact outer appearance but can have a significant impact on brain development and long-term cognitive functioning.
Type of Deficiency Symptoms Kid-friendly food sources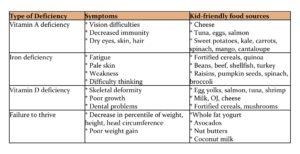 Fun Food Ideas
Mince colorful vegetables and mix them into scrambled eggs for breakfast or pasta sauce for lunch or dinner.
Make your own trail mix for snacks. Include raisins, seeds, nuts, and fortified cereals. This can be a fun, family activity too!
Offer OJ when having hamburgers for lunch or dinner…Vitamin C increases the body's ability to absorb iron.
Keep "power condiments" on the table for sprinkling or dipping: Parmesan cheese, avocado oil/olive oil Mayo, Pesto, Hummus, Guacamole and Sour cream/Greek yogurt.
Smoothies are a great way to give kids choices, allow them to help with meal preparation and to get lots of nutrients in one sitting!

Here are a few other recipes to try out.
Veggie-Loaded Breakfast Casserole
2 tablespoons oil 8-10 mushrooms, sliced 2 teaspoons minced garlic
½ red onion, diced 2 bell peppers, diced 2 cups baby spinach
1 cup shredded cheese 10 eggs ⅓ cup half & half/milk
20 ounces shredded potatoes salt and pepper
In a large skillet over med heat, heat 1 tablespoon of oil. Add mushrooms and sauté for 4 mins or until they start to brown. Add a small pinch of salt, onions, and garlic; let cook for 2 mins. Remove and set aside. Add remaining oil and sauté peppers for 1 min. Add in baby spinach and allow to wilt; remove from heat and set aside.
Generously spray a 9×13 baking dish with nonstick cooking spray. Lay the shredded potatoes in the bottom of the dish and press to make sure they are spread out evenly. Add the veggies (both the mushrooms and the pepper mixtures) over the potatoes, set aside.
Position a rack in the center of the oven and preheat the oven to 375ºF.
In a large bowl, whisk together eggs, half & half and a big pinch of salt and pepper. Pour the egg mixture over the prepared veggies. Sprinkle the cheese over the top and another small pinch of salt and pepper.
Bake the casserole, uncovered until the cheese melts, and the top turns golden. About 45-50 minutes. Allow the casserole to cool for 10 minutes before slicing and serving.
Pasta e Fagioli
1T olive oil 1lb Italian sausage 3 carrots, peeled & chopped
2 stalks celery, chopped 1 onion, chopped 4 garlic cloves, minced
1/4t salt 1/2t Italian seasoning 1t dried oregano
1 (28-ounce) can petite diced tomatoes including liquids 1c water
1 (15.5-ounce) can cannellini beans, rinsed & drained Salt & pepper, to taste
4c low-sodium chicken broth, divided 2c baby spinach, roughly chopped
4-6 ounces ditalini pasta grated/shaved Parmesan cheese for garnish
Heat oil in a Dutch oven over med heat. Add sausage and cook until lightly browned about 5 mins.
Add carrots, celery, and onion. Cook, stirring occasionally until vegetables are softened, about 5 mins. Add garlic, salt, Italian seasoning, and oregano. Cook, stirring constantly about 1 min. Add tomatoes; stir to combine. Add beans and 1c of broth. Bring mixture to a boil; reduce heat to low and simmer for 10 mins.
Add remaining chicken broth and water. Increase heat to med-hi and bring soup to a boil. Add pasta and cook until just tender, about 10 mins, stirring frequently. Turn off heat, add spinach to pot and stir until wilted. Check to season; add salt & pepper to taste.
Enjoy these ideas and share this post with others!
Information on this blog was resourced from Pinterest and Adoptionnutrition.org